The lawyers of today have likely seen a dramatic transformation of their industry in the last few decades. One of the biggest drivers of this change is technology, making important contributions to how the legal profession works, collaborates, mentors, and communicates.
We will discuss the crucial role of legal technology, or legal tech, in more detail below.
What is legal tech?
Legal tech has been a buzzword in the industry for some time now. This term is used to describe new technologies and software that substantially change the way we use legal services. Examples of this include predictive analytics, artificial intelligence, and machine learning.
How is technology changing the legal profession?
There's no doubt technology is playing an increasingly significant role in the legal sector. In 2017, the Harvard Law School Library completed its Caselaw Access Project (CAP). This undertaking of scanning the entire case law library at Harvard – all 334 years of legal history – has enabled US lawyers to easily access state and federal decisions.
The legal industry benefits from technology in terms of saving time, becoming more efficient, and introducing greater transparency between lawyers and clients. It is a tool to solve problems, streamline processes, and a way to open new opportunities in the future.
Some technology trends are already appearing in the practice of law, others are still in the wings.Here are five ways technology is transforming the future of law.
Legal research
Historically, in-house legal tasks have always been performed manually. Yet 3% of that in-house legal work is repeatable, fact-based decision making that doesn't require any human interpretation or judgement. Although artificial intelligence is relatively new to the legal profession, it's expected it will be transformative in the future.
AI has the ability to streamline administrative tasks and processes that are repetitive and take up a great deal of time. It can be used for creating and reviewing contracts, searching for missing terms and clauses, or can transcribe court hearings.
Lawyers and legal staff spend many hours sifting through documents for evidence, which is costly for clients. Gone are the days of paper discovery, with eDiscovery more prevalent as most legal documents and evidence are digital and can come from various sources, such as emails, archives, mobile devices etc.
Artificial intelligence, with its machine learning, can be used to quickly and accurately review documents relevant to certain cases. This increases efficiency as legal teams are able to direct their focus to tasks that require expertise or deeper analysis.
Automation
Legal automation software can take over many tasks that are normally done by searching for specific keywords or phrases. It provides legal firms with better tools to organize and track progress across many cases, enables data collection, daily scheduling of important dates, organizing case documents, billing, etc.
All this relevant information can be stored in a centralized database for those who are authorized to access the information. Digital case management enables all employees to share documents as needed and can be cloud-based to enable lawyers to upload new information from anywhere, whether from court or when working remotely.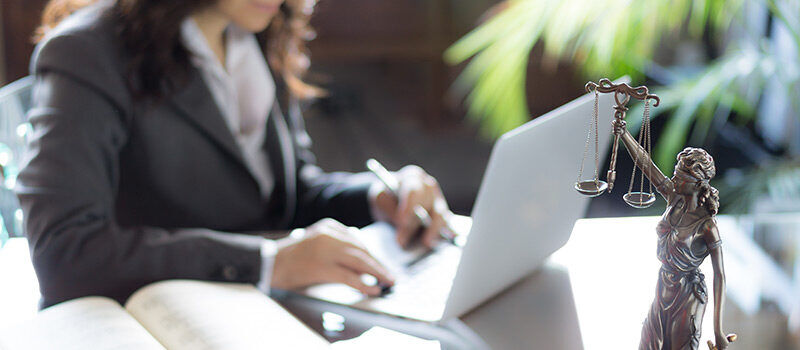 Predictive analytics
Programmed algorithms have the ability to redefine case management in many ways. Given enough information, predictive analytic software can predict with over 70% accuracy the outcome of a particular legal case.
This ability to analyze data can assist lawyers with strategic and efficient decision-making, such as whether to take a case, free structures, and if assistance will be needed from other counsel. With new legal practice areas developing alongside new tech, such as social media law, having the ability to find existing legal principles to new and varied situations enables lawyers to provide more sound legal advice.
Alternative business models
64.7% of law firms allow their lawyers to work remotely, which means more diverse ways to communicate with clients and other legal staff have become necessary, such as internet-based messaging, email, or web conferencing. Clients are able to remain in touch with their legal practice, bringing about an increase in transparency and trust. It also increases productivity for lawyers and legal staff.
Online services for standardized legal procedures such as wills, rental agreements, etc. will become more prevalent in the future, as well as online dispute resolution platforms. Internet-based tech solutions may be offered by legal practices to enhance customer experience and satisfaction.
Online connection
Online communities can benefit many disadvantaged individuals and groups with access to pro bono help from lawyers, access to resources, support from others facing similar problems, and advice from people who have been in these groups for a long time. Through these communities, information can be shared with law students who also may receive mentoring.
As social media becomes a popular forum for lawyers to network and collaborate on, it is also a way to market the way technology is influencing their professional growth and development, either individually or across their practice.
Staying ahead of technological disruption
The last few years have provided many examples of how digital transformation and innovation are critical to adapting to the changes we face in society. Staying current with the newest legal tech is not optional – it will result in time and cost efficiencies, and drive greater productivity across the sector.
The implementation of technologies must be well thought out to genuinely improve the quality of client service and create better solutions for law firms. Overall, great efficiencies and processes will reduce costs and increase customer satisfaction. By removing the time consuming, demanding tasks to technology, legal professionals can move onto focusing on value-added, client-facing tasks.
To remain competitive and relevant, legal firms are embracing digital technology faster than ever before. Making this transformation absolutely requires the right technology partner to give legal businesses the best tools for success. Call our IT experts at Technology Solutions and get expert advice on how technology can transform your law practice.